While marble-like countertops were, and still will continue to be popular choices for homeowners, one of the most popular choices for 2018 countertop projects is going to be the concrete-type look.  Many like the industrial style with its sleek cool grey feel.  This color tone is versatile and can work in many color schemes.  Countertop manufacturers have spotted this more natural look as a way to bring stone that resembles a solid piece of concrete into a design without the weight!  Many quartz manufacturers have introduced new colors to their lineup, which include greys in a "honed" finish to mimic the look of concrete, but with the benefits of quartz.
How does this work?  As we've mentioned in previous posts, quartz is composed of about 93% natural ground quartz. It is a man-made engineered stone material, that combines the stone with resins, polymers and pigments to produce a unique color selection.  This also increases a manufacturer's ability to produce consistent looking slabs.  Using this formula, they can infuse the pigment with a more raw looking combination of colors that mimic concrete.  Even with a polished finish, the look is similar, however going one step further, "honed" finishes use less of the superficial polish, thus making the quartz feel a bit more rugged to the touch.  Not to worry though, most manufacturers are now including these specialty honed finishes in their warranties, so it still remains a durable, easy to maintain choice.
Various colors have been introduced into the quartz market, that vary on the spectrum from a very plain grey, to ones that have more pattern and variation.  Here is an example of a triad of colors from Caesarstone, specifically produced to encourage those seeking concrete type countertops to consider their quartz material for their projects: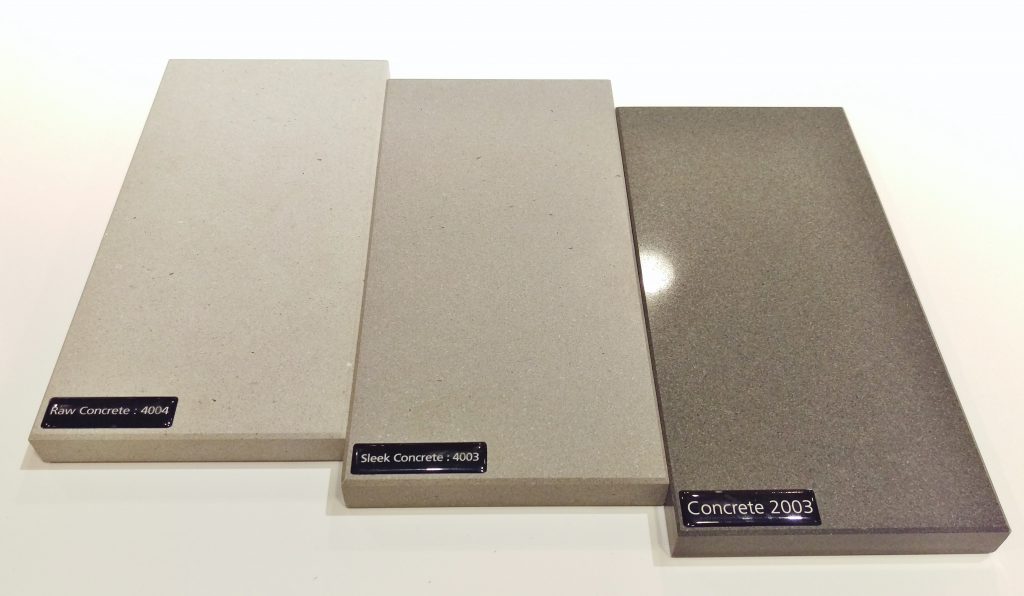 Another option for those seeking a concrete look, is the newest material on the market for countertops, called Dekton.  Produced by Cosentino, which includes their popular quartz line Silestone, Dekton is an upgraded version of quartz, with even higher resistance to every day use.  It is produced similarly to quartz, however it is much more dense, includes additional materials such as glass and porcelain pieces.  It is currently only produced in 2CM thickness, versus the standard 3CM, however the 3CM material will be available to the public some time in 2018.  These colors have a honed, rougher texture to them compared to traditional quartz, which gives a unique twist to the type of material that can be utilized in home remodels.  There is variability in patterns, ranging from a solid colored material, to something that has specks and grains to give more depth to the design.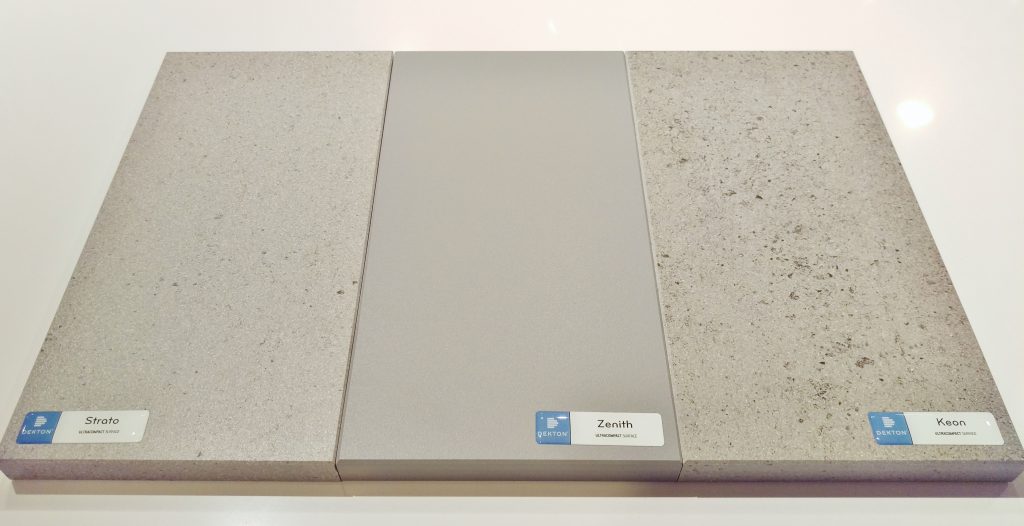 Knowing you want a concrete countertop is a great first step.  Many are left wondering though, what kind of cabinetry does it go well with?  Let's go over a few examples of wonderful pairings for your future grey countertop.
WARM WOOD + GREY COUNTERTOPS
The easiest way to balance out the colder tones of the grey countertop would be to match it with either a warm light wood stain in your cabinetry, or a darker wood tone.  In the image below, the slightly darker grey works well with the lighter wood, and the lighter grey works well with a darker wood stain.  The key here is balance.  Matching a light grey countertop with a light wood stain can still work well, however one may consider adding darker elements, perhaps in the flooring, in order to create visual balance.  When the cold and warm tones are distinct such as in these pairings, the element of balance again creates a design that gives more depth and visual interest.  *Note: these combinations go really well with neutral white tile backsplashes.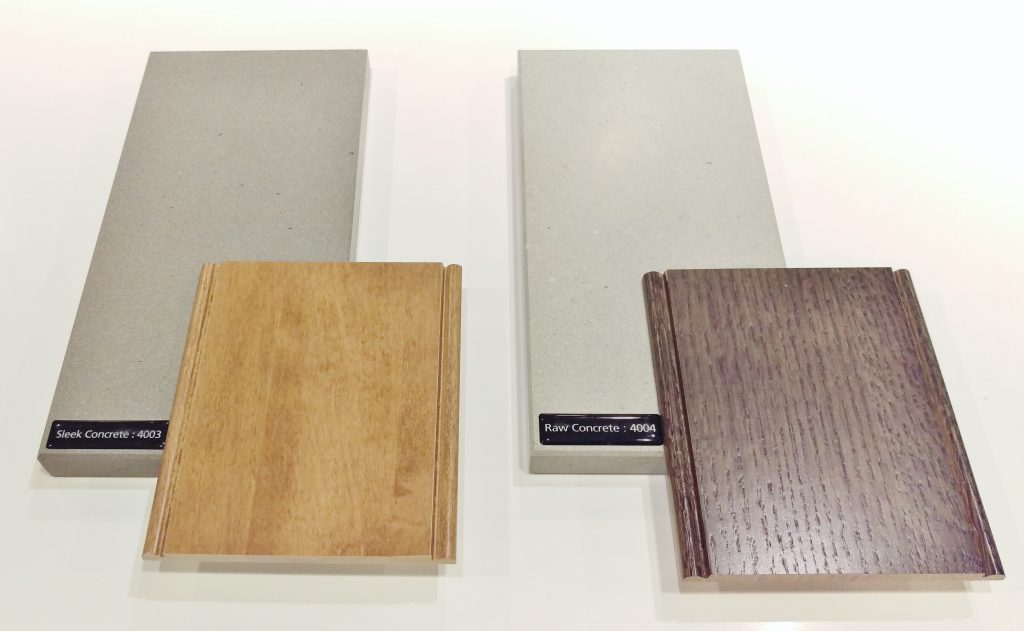 PAINTED CABINETRY + GREY COUNTERTOPS
Homeowners have made painted cabinetry a very popular choice thus far in home remodeling.  White cabinetry is a staple go-to for many, and adding a grey countertop over it, versus a white-on-white design, adds a bit more variety in the design, while maintaining a clean feel.  For those who want to go for a bolder look, pairing a grey countertop with a painted cabinet in a color, such as the upcoming trend of dark blue cabinets, adds sophistication and elegance to the overall mood of the space.  This scheme goes really well either with classic silver/brushed knickel hardware, and also gold/bronze hardware.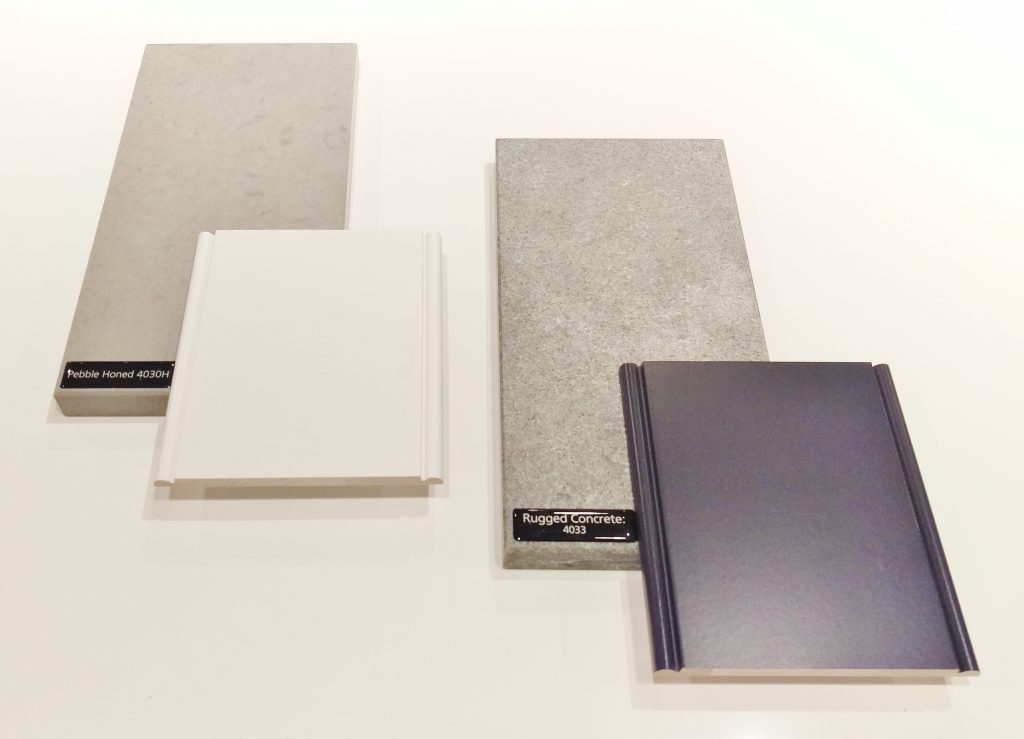 This trend will definitely remain a strong contender for a new classic pairing since it can be used so many different ways.  If you're curious to see how the honed finishes feel for yourself, feel free to stop by our showroom at 5038 N. Clark St, in Chicago, IL 60640 to see samples and discuss your project with us!

Written by: Monica Milewski, AKB Chicago Project Coordinator