So after days of contemplating over a plethora of options you've finally picked out your countertops to accentuate your kitchen! But did you know that in lieu of the usual path of countertops with standard backsplash, you can also opt for a waterfall countertop?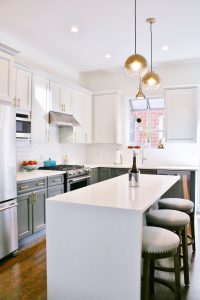 Now what is a waterfall countertop? It's a continuation of the actual stone over either one or both sides of your kitchen counter or island. A few benefits of waterfall countertops are the impact it creates, showing more of your chosen countertop stone, creating clean lines that can compliment a contemporary or rustic style kitchen and the minimization of wear and tear damage throughout the years.
With waterfall countertops you are creating a space with more impact. Natural boldness from the chosen stone and extravagant impression from this growing trend, your countertop space is surely going to become a conversation starter.
Even with the most simple of countertops, you can show off more of it's beauty with this singular style. If you've chosen a bold stone with a variety of color shifts and veining, or if you've gone down the more modern path with single color countertops, you're still creating a great focal point for your kitchen.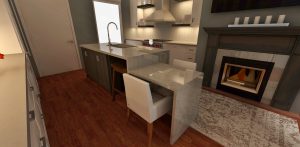 With this trend it's mistaken that you must have a contemporary kitchen in order to reap the benefits of this look. However, more individuals are putting the sleekness of waterfall countertops into their rustic style kitchens as well! This pairing of contemporary lines with rustic cabinetry creates an interesting juxtaposition of styles and helps to serve those who like the best of both worlds.
On top of these benefits, you are also looking at better damage reduction. Let's face it. We all run into cabinets from time to time. Over time, that continued damage can cause serious wear and tear on you cabinetry which you'll inevitably have to replace down the road. Since waterfall countertops are just a continuation of the same countertop material, they can withstand longer against years of wear and tear due to it's resiliency as a stone.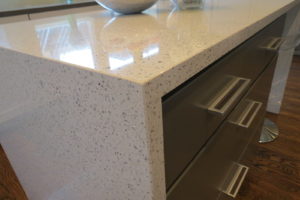 The most popular edge for a waterfall countertop is a mitered one. Reason being that the edge where the countertop "falls" is flush together as it continues to the floor. Since the connection of the two slabs are adhered on a natural point it becomes visually seamless as to keep with a continued countertop line.
Now of course since there is more material, there is more cost. Essentially, the standard waterfall countertop is two slabs whilst a standard countertop is one. Due to more slabs, there is more installation work for the look of a waterfall countertop, more labor which equals more cost for this sleek look. On average, the total added cost can be anywhere from $1,000 to $2,000. Various factors do play into this cost such as brand of countertop and style. However, it's always worth the price if it's the style for your kitchen you always dreamed of!
There's definitely more options for waterfall countertops but hopefully this blog post has covered some of the basics and perhaps even inspired your next design decision!  To view additional pictures of these projects, please visit our remodel project gallery by clicking here.
Written by: Marnie Knouse, AKB Chicago Project Coordinator