Quartz is becoming one of the most utilized countertop materials in home remodels.  Composed of about 93% natural ground quartz, It is a man-made engineered stone material, that combines the stone with resins, polymers and pigments to produce a unique color selection.  This also increases a manufacturer's ability to produce consistent looking slabs.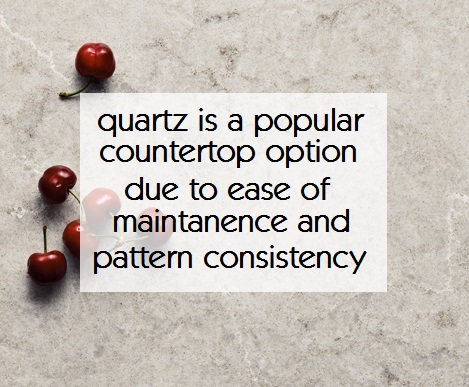 When viewing a quartz color sample, clients can typically expect that what you see in the smaller sample will be what is installed in your home.  For colors that have bolder veining or patterns, we recommend clients view larger slabs at material warehouses for further confirmation of their choice, however it is not necessary to do so.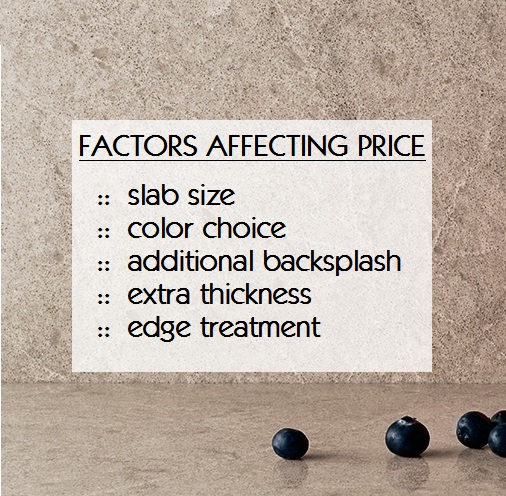 When clients obtain a countertop estimate, there are various factors that affect the overall price.
SLAB SIZE
Each quartz company fabricates their slab sizes according to company standards.  While most quartz slabs are about 120 x 60″, there is variability even within certain colors, and offerings of jumbo slabs.  The way this affects the price of a countertop estimate, is that a larger slab may cover slightly more area and countertop space, making it easier to fabricate with fewer slabs utilized.  If a layout has a larger space needed, sometimes the fabricator will need 2-3 slabs, which increases your overall project cost.
COLOR CHOICE
Each quartz company divides its colors into price group tiers.  There will be some colors that belong to a higher priced tier, and some to a lower priced tier.  The color you are looking for, and which group it belongs to, will ultimately affect the overall project price.
ADDITIONAL BACKSPLASH
If a client is wanting to add a 4″ standard backsplash, or sidesplash, this will influence the cost of your quote slightly.  However, if a client would like to have a full-height backsplash installed, this may sometimes double the amount of material needed, as well as the price, depending on the run of space that a backsplash would be required.
EXTRA THICKNESS
If a client is interested in having a non-standard thickness of their countertop, such as 6CM for example on an island, the additional mitering of material will increase the countertop quote.
EDGE TREATMENT
If a client is interested in having their countertops fabricated with a non-standard edge, such as a curved bevel, it may increase the countertop quote due to the additional labor involved.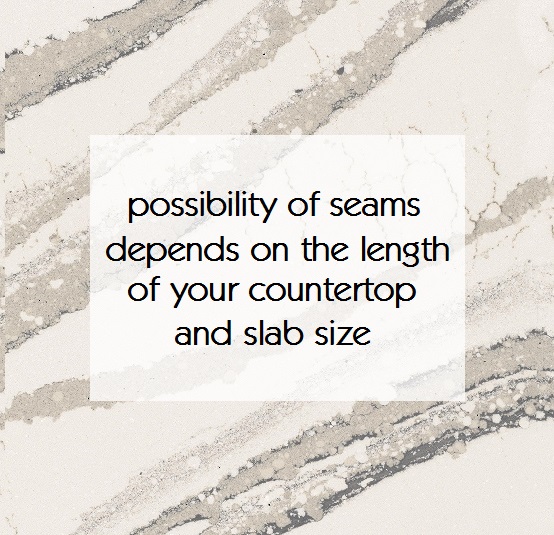 Clients may sometimes need to have a seam in their countertop, if perhaps, the length of a run exceeds the length of a slab, or there is an unusual angle involved in the layout.  Sometimes, the entrance to a residence may dictate whether or not a slab needs to be cut at a specific length.  Fabricators check elevator measurements when installing in highrises, as this is a necessary component of transporting the material into the residence, and the material needs to be able to fit inside.  Clients will be notified prior to installation should there be a need for a seam.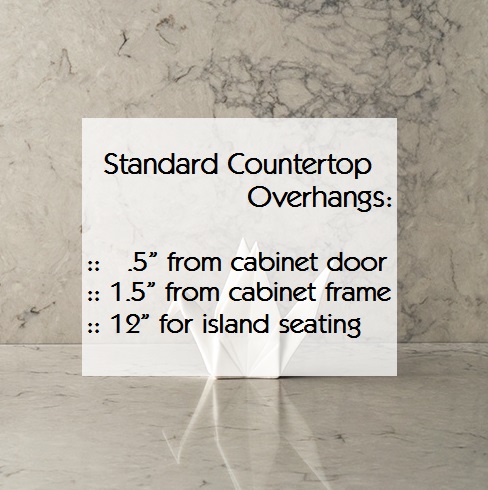 Typically, a quartz edge will be slightly protruding over the cabinet and cabinet door.  If a client has a request for a flush installation, it must be noted at the time of inquiry.
Standard island overhangs are about 10-12″ for comfortable seating.  If a client has a request for a non-standard overhang depth, the fabricator must be consulted to see the feasibility of the quartz being supported by the existing cabinetry or another source of support.
With the large array of colors and options, as well as ease of maintenance, quartz has quickly become a popular choice for those remodeling their homes.  For more information on receiving a quote from our selection of quartz materials, please contact Andersonville Kitchen & Bath today.
Written by: Monica Milewski, AKB Chicago Project Coordinator