The major focus of planning a remodel is oftentimes, and rightly so, the design, the materials and managing the labor involved in the project. However, there are certain items on your to-do checklist that sometimes are not as focused on, but preparing for them can ensure a more smooth transition from old space to new. Here are a few things to consider adding to your remodel checklist so that things stay on track:
1) FOOD BUDGET
Remodeling your kitchen means that for some time throughout the weeks of demo and installation, you will not have access to a properly functioning kitchen. Being mindful of how you want to prepare for not being able to cook or utilize a refrigerator is key. It is best to set aside a portion of your budget towards alternatives, such as eating out, grilling (weather permitting) or visiting friends and family to share your mealtimes with, while you are waiting for your new kitchen to be completed.

2) STORAGE
You have an expected shipping date for your cabinetry, and now the waiting begins! There is plenty you can do before the project work starts to ensure as little stress as possible. It is a good idea to gather some extra storage materials and find additional storage space in other rooms of your home, so that you have a place to put all of the items that are currently in your kitchen or bathroom. Keeping things labeled will help you find your items once you are ready to place them back into your new cabinets. BONUS: While you are putting things away, it is a great time to do a bit of decluttering and free up some more space by getting rid of unused or broken items!
3) APPLIANCE ORDERS
Before finalizing your design layout, it is best to make sure your appliances have been ordered and will fit into the design seamlessly. Leadtimes for certain appliances may vary, especially if ordering a custom hood, or special order range. It is best to discuss model numbers and dimensions with your designer before you purchase and to communicate with your contractor when these items are to be delivered and installed.
4) TILE ORDERS
Another item that is has varying leadtimes is tile. Some specialty tile can have a leadtime of even a couple of months if is produced and imported from overseas. Make sure to start researching your wish list items such as floor tile and wall tile sooner than later, as this can affect the overall start time of your project.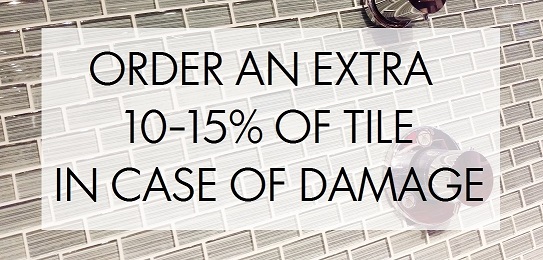 ***Working with tile can sometimes be a tricky task, and while your contractor can provide a solid estimate of the amount needed to be purchased for the space, it is recommended to order 10-15% more tile than is necessary should anything be damaged in shipment or while being installed. This is a good investment as having extra material will save valuable time and will ensure the work progresses in the project smoothly should anything unexpected happen.
5) CLEANING
In addition to welcoming contractors and crewmen into your home, you will also be faced with a lot of additional dust and debris! While it is an unpleasant part of any remodel, it is one that can be taken care of with the right preparation! Remember to discuss with your contractor how they intend to keep the worksite tidy and clean to the best of their ability. This can include and is not limited to: laying down protective coverings for the floors, and plastic sheets to cover entryways.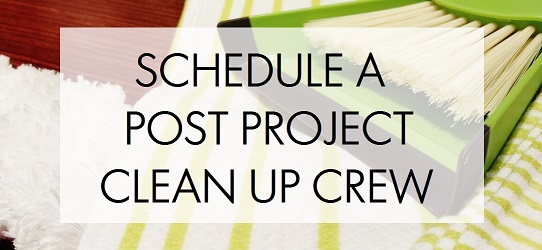 Once all the work is done, it is a good idea to hire a professional cleaning crew to help with sweeping up all the leftover dust so that your home can truly become a brand new clean space!
BONUS TIP: It may be beneficial to you and your family if you are able to find different accommodations while the work is being done, such as living with family for a while or staying with friends. This could be especially important if you have young children or pets, and during a bathroom remodel, during which you will need to find alternatives for your daily hygiene maintenance needs.
Finally, you will need to make an extra set of keys for your contractor, or any contact person that will be on site for measurement appointments. Additionally, purchasing parking permits for your contractor, so that they may have close access to your home and can spend their time making your home beautiful once again, is another small but important thing to get checked off your list to ensure optimal project work flow.
Andersonville Kitchen & Bath aims to help you make your vision come alive. With attentive support and guidance, our staff is here to answer your questions and concerns through all the steps of your project, from start to finish!
Written by: Monica Milewski, AKB Chicago Project Coordinator